Thank you for your very kind words regarding the death of our sweet yorkie, Misha. She really was a wonderful companion to each member of our family and we miss her daily. I am so thankful that we have Lily who will never replace Misha but will forever warm our hearts and brighten our home. It is hard to believe that she will turn 4 in a few weeks.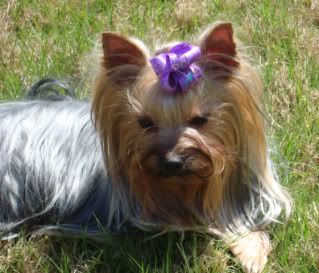 LILY
I learned that Karen K. received the HOE PS Ornament that I sent to her so I am free to post a picture:
2012 HOE PS Ornament
Design: 2004 PS Santa
Stitched for: Karen K.
The 50th Wedding Anniversary sampler is now framed and was presented to my Aunt and Uncle at their party last Saturday.
50th Wedding Anniversary Gift
Designer: Historical Sampler Company
Like most stitchers I have so many projects started and really have no business tackling another one but I fell in love with this needlepoint canvas. MY DH gifted it to me this past Christmas and I am just now finding time to start working on it.
Ewe And Eye Needlepoint
Artist: Karen Cruden
Many years ago I dabbled in needlepoint and last summer I ventured into "In Stitches" ~ a wonderful ship in Dorset, VT. I was quickly drawn to some wonderful pieces and the very friendly owner, Maria. With the help of Maria I hope to incorporate a number of specialty stitches to make this design spectacular.
On May 3rd we celebrated our 27th Wedding Anniversary ~ Only 23 more before the big 50th!
And here is the best part of 27 years of marriage:
DS and GF