It's hard to believe that a year has gone by, even harder to believe that she is gone. I stitched this Little House Needlework design shortly after Misha, our 15 year old Yorkie, died but it was not until a few weeks ago that I got it framed.
After stitching Dog House Sampler I decided to personalize it and to attached her dog tag but something was missing...hmmmm, her picture! What better way to memorialize her than to add pictures of her with two of her favorite people. Having both DSs picture included adds a special *something* to this finished piece...
MISHA
Designer: Little House Needleworks
We all miss her, including little Lily who use to find warmth curled up in bed with Misha (yes, Misha is squished in that bed)....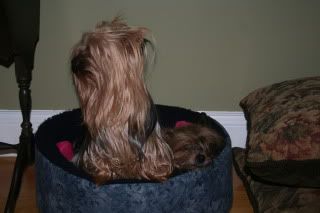 Lily now finds warmth sitting on the heat vent (letting her fur blow)...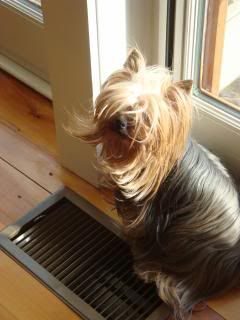 Even after a year she is greatly missed...but NEVER forgotten.
Thanks for stopping by ~ have a great day!