As I mentioned in my last post, my DH was traveling to Barcelona, Spain and Mainz, Germany earlier this month. He asked if I would like to join him but I declined.
Although I have been to Germany I have never been to Spain so why would I choose to remain at home?
DH was traveling over "Puppy Pick Up" weekend and I did not want to delay taking Emma home.
On October 31st we visited a local breeder to pick out a new Yorkshire Terrier puppy from a September 14th litter. We selected this cute little girl What a face….
At just 6 weeks she weighted in at 1 lb 4oz ~ so very tiny. We anxiously waited until she turned 3 months to take her home. Our scheduled "Puppy Pick Up" date was December 5th and as much as my DH longed to be able to change his travel plans he could not. There was no question about it, I was staying home so that I could finally bring this sweet baby home!
She is very sweet, absolutely adorable, sometimes a wee bit naughty, dearly loved,
and oh so cute
Emma: 3 months ~ 1 lb 11 oz
I wish I could say that I knitted that sweaters, I did not. The breeder sent her home in it.
For some strange reason Emma finds comfort hanging out by my muck boots. Yes, she sometimes chews on the laces but will sit and sleep next to them.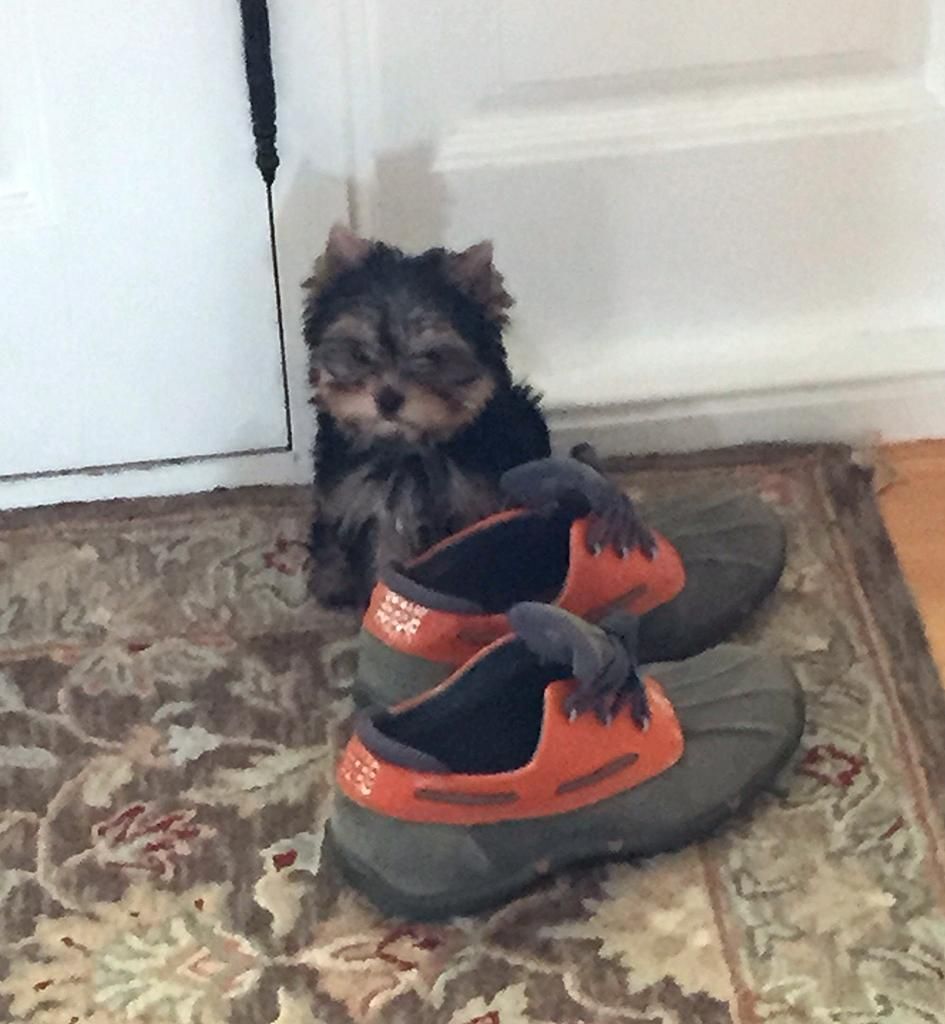 Our 6-year-old Yorkie, Lily has been very patient with Emma who: nips at her legs, tugs at her ears, and attempts to jump on her back. Fortunately, Lily is able to jump onto furniture to escape the naughty puppy harassment!
Last Friday we took a loooooong road trip, driving 1900 miles without stopping (there were 3 capable drivers), to spend Christmas with my youngest DS in Colorado. Last summer he took a new job here and we decided that we would spend Christmas with him skiing. I have never skied outside of the Northeast so I was very excited about this ski trip.
In my next post I will let you know why I'M NOT ABLE TO SKI IN COLORADO ~ Unbelievable!
Wishing you a Merry Christmas