I have been truly blessed with some very cherished friends. One of those friends is Carol S. who I have known, through blogging, for many years. I have also had the pleasure of meeting Carol at Celebration of Needlework in NH where we have taken classes together and spent time chatting over lunch/dinner. She has become one of my treasured friends.
Earlier this month I was dealing with a dreadful cold. I had not been to the post office in days and knew that my box would be filled. What I did not expect to see when I arrived was a large box from Carol. I could not imagine what was inside and wondered what kind of tree ornament did she stitch that required such a large box! When I arrived home I opened the box and found this…
Here is a close up showing the many beautiful stitches and gorgeous colors…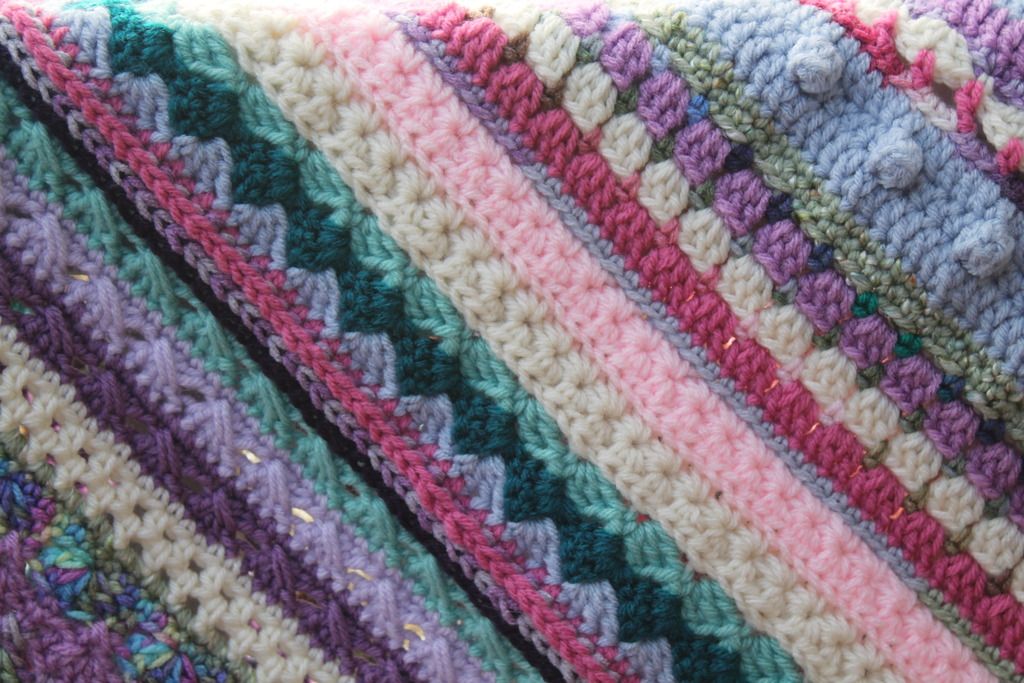 I was completely shocked, and still am, when I pulled this handcrafted crochet lap blanket out, which she made for my upcoming birthday! Like so many crafters I know the time and effort involved in creating such a beautiful gift and am truly grateful to Carol, not only for this amazing birthday surprise but for her friendship. Thank you, my dear friend. You are a blessing in my life.
It is December Gifted Gorgeousness time so I will share with you my progress on Black Horse Inn…
I spent much of my free time stitching Christmas ornaments but did manage to pull this out and put a few stitches in it.
This year I will be spending Christmas with my DH touring around California. The last time we were in CA my DSs were in elementary school. The oldest is now married and will be spending the holiday with his in-laws and my youngest will be spending the holiday with his GFs family in Georgia. This will be the 1st Christmas without my sons ~ I am not liking that too much.
Here is a picture of a gift that I sent to a friend…
2015 Christmas Gift for Leslie L.
Here is a closer look at the cross stitch…
Designer: Jeannett Douglas Designs
Design: Christmas Tree
From: 2007 JCS Ornament Issue
These Annalee dolls are great for displaying cross stitch smalls!
I also sent my friend a stitched ornament. She is a true animal lover and is thinking of getting some sheep so when I saw this design I knew immediately who I would stitch it for…
2015 Christmas Ornament for Leslie L.
Designer: Mosey N Me
Design: Ewe-le Tide Greetings
From: 2013 JCS Ornament Issue
Wishing all of you a very happy holiday!
Until next time…