I read that
Michelle
received the
SBEBB
: Halloween Exchange that I sent out so I am able to post pictures. I used a design from Trail Creek Farm and finished it as a
decorative holiday hanger.
When I saw the "BEWARE" hanger I immediately knew that it would work quite well with this design. I found some great little clips that I used to attach the stitched piece to the metal hanger.
Becky's exchange partner email stated the I should not send any candy to Michelle. I was a bit puzzled as to why I should not include candy with a Halloween Exchange. I visited Michelle's blog and quickly realized why...she was pregnant and had gestational diabetes. I too dealt with this (twice) and found it dreadful not to be able to eat sweets! So, sorry Michelle for the lack of candy in my Halloween box!
So, did Michelle have a girl or a boy? I am not telling :-D. She shares some beautiful pictures on her blog~check it out. Congratulations Michelle!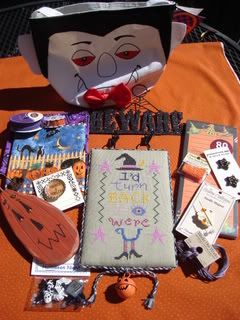 SBEBB

: Halloween Exchange
Stitched for: Michelle

Front view Back View
Village/Houses of Hawk Run Hollow SAL
We have another member to our growing group: Welcome
Kajsa
, so glad that you are joining our "stress-free" SAL. To prove how "stress free" we really are just read on...
Okay, so I am almost certain that I will not,
yes will not
, complete block #2 of the
VoHRH
SAL by November 1st~anyone up for extending this until December 1st? :-) I know that I am not alone when I say that this time of year is busy, busy, busy and it only gets worse! Things in my life are complicated by the fact that I have a son who is in the midst of the "college search/application process" and another son who is in the midst of trying to secure off-campus housing for the fall of 2008 (senior year). Stitching has taken a back seat lately.
Thanks for your kind comments on my quilts. To answer your question Heather: the lady is hand appliqued on the wall quilt. I use to DREAD and avoid doing hand applique, but it has grown on me and I actually like doing it. To Vonna: don't you know if there were more hours in a day I would stitch you a quilt!


I hope that everyone has a wonderful weekend!


Until next time...