Yesterday was made brighter by the arrival of an amazing exchange box from
Julianne
. She is stitching for me in the
Seasonal Exchange
. This year long exchange involves stitching separate exchanges (summer, fall, winter, and spring) for the same person. For the summer exchange Julianne stitched me a gorgeous wallhanging using a design from one of my favorite designers~Prairie Schooler. She amazed me once again with this beautiful Autumn Exchange, another Prairie Schooler design, creatively finished into a wonderful pumpkin pillow. You can not imagine my delight when I opened her box and pulled this out.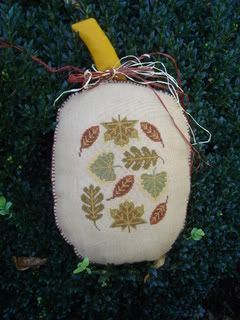 Seasonal Stitchers Autumn Exchange
Beautifully stitched By Julianne
Long ago I had purchased this PS Pumpkins leaflet but I have not stitched any of the designs in it. I am so happy that Julianne did the stitching for me, and did it so perfectly!
I also received some beautifully scented Jasmine soap, in an absolutely adorable box. Oh how I love Mary Engelbreit artwork! Along with the cross stitch fabric and fat quarter I received a very pretty sampler pattern designed by Eileen Bennett. I am so blessed to have Julianne as a partner and I can not thank her enough~ THANKS Julianne, you are so very sweet!
Seasonal Exchange: Autumn


I am happy to say that I have completed the stitching portion of my Autumn Exchange but sadly I am struggling with how to finish this piece. I best end now so that I can work on figuring this out~


Until next time....