I participated in the SBEBB
Halloween Exchange
and was treated to a wonderful package from
Isabelle
. It is always so exciting to receive mail from another country, this arrived from France.
SBEBB Halloween Exchange
How very pleased I was when I saw the beautiful Needleroll that Isabelle stitched for me. I adore the design with the many beads, beautiful lace, and gorgeous stitching! Isabelle, you did a perfect job stitching and finishing this. It has been placed in my display case with my, small but growing, collection of Needlerolls.
Isabelle also included the cutest fat quarter, a collection of decorative Halloween buttons, and some purple ribbon.
Thanks you so very much, I adore all that you sent
!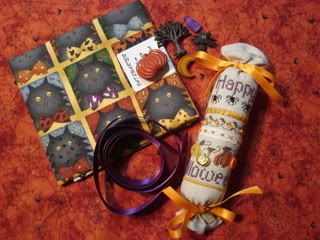 Halloween Exchange from Isabelle
I was able to stitch a little on the VoHRH, but NOT nearly as much as I would have liked to! With only a few days left in October I doubt that I will complete block #2 by November 1st. I know that Kathy, Wanda, and Mindi may be in the same boat with me, so we can all rest a little easy and shoot for the December 1st date. I do however look forward to seeing progress pictures, and will post one of mine soon. I know that Katrina is working to meet the deadline and look forward seeing pictures of any completed blocks!
I was able to spend this past weekend in Vermont. It was so nice that I stayed up there a few extra days to enjoy the fall foliage. The weather was a wee bit warm so although it looked like Fall, it certainly did not feel that way. I will leave you with a picture of why I absolutely love it in Vermont…
Vermont October 2007
So many of us are very busy these days~please know that I appreciate your taking the time to stop by!
Until next time...