I would like to first thank everyone for the many birthday wishes and I do hope that
Vonna
reads the comments to my last post so that she can see, as
Harmien
so accurately stated, that she truly is the Queen of Stitchy Blogland!
What a great mail day, I received an amazing Winter House Exchange (SBEBB) from
Mindi
. She stitched a Prairie Schooler design, one of my all time favorite designers! The design is the January block from the Summer and Winter book. The minute I saw it I thought of Vermont, a house surrounded by pine trees and a deer running through the front yard. Yes, that would be Vermont! Mindi did an amazing job on the beautiful pinkeep, her stitching and finishing are just perfect. Take a look at this beautiful treasure…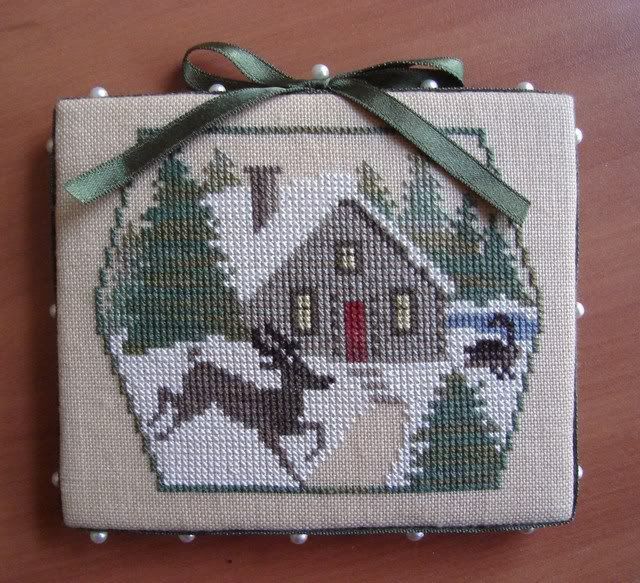 SBEBB Winter House Exchange
Designer: Prairie Schooler
Design: Summer and Winter
Stitched by: Mindi

Mindi also treated me to some very special extras. First, I must compliment her Dad on the beautiful wooden floss holder, which he made!!! My mouth dropped open upon seeing it and my eyes popped when I read that her Dad made it. Honestly, I have always wanted a wooden floss holder and am ecstatic over receiving this beauty; a huge thank you to Mindi's Dad.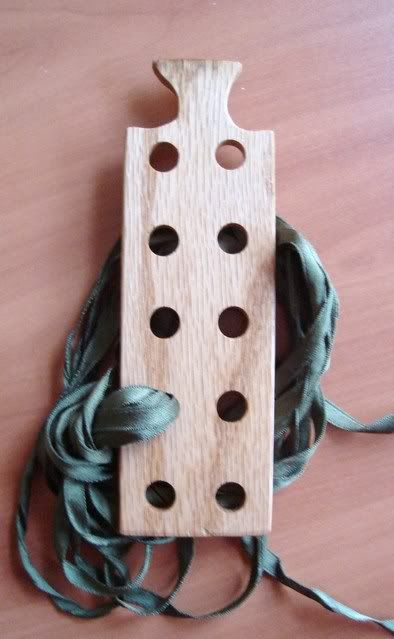 Wooden Floss Holder
Beautifully Handcrafted by Mindi's Dad!



I received some beautiful silk ribbon, in my favorite color and two skeins of Dinky Dyes Silk! They are perfect for a project that I have in mind and I can't wait to stitch with the silk! Now, if only there was a way that you could smell the beautiful scent of the Saffron and Sage hand poured candle the Mindi included, oh how I love scented candles! She aslo included some tapestry needles, lip balm, and delicious chocolates. As you can see I could not resist and gobbled up two pieces. Many thanks Mindi for making this such a special exchange, one that I treasure!

SBEBB Winter House Exchange
From Mindi


Like many others I thought that this would be my very last SBEBB exchange and am SO very happy that BeckySC has decided not to close the the board, thank you BeckySC! I look forward to participating in more wonderful exchanges in 2008!
Unlike
Kathy
, I did not complete VOHRH Block #3 by the January 1st date. It is not that I have neglected my stitching it is that I had to finish the donation block for Cole's Quilt and I jumped on board the Hello Neighbor RR and am playing "catch up" trying to stitch my Halloween House before the February mail date. As for my VOHRH progress:
And my Hello Neighbor RR progress: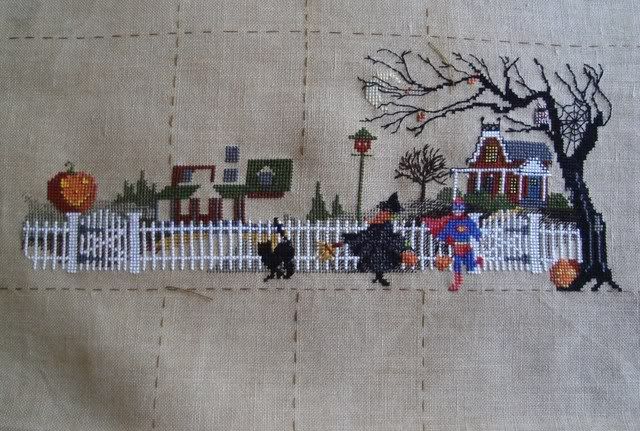 I am off to Vermont for about a week and I anticipate many free hours of stitching….I hope!
Wishing you all a wonderful weekend.
Until next time…