I spent the last three weeks in Vermont where the weather was a bit crazy; most of the days were freezing but the last few were unseasonably warm. The combination of rain and warm weather put a damper on our plans to ski this week so we headed back home a few days early. Awaiting me was a wonderful exchange from
Valerie
! Her work is absolutely beautiful, I am so impressed with both the stitching and finishing of this box. If I am not mistaken Valerie constructed the actual box. I am not sure how to do this but I wish she had a tutorial that would show me! The design is perfect and I truly love it.
SBEBB Snowman Exchange

Stitched by: Valerie

Valerie was more than generous, she filled the box with all of these great extras…thank you so much Valerie you made this such a great exchange!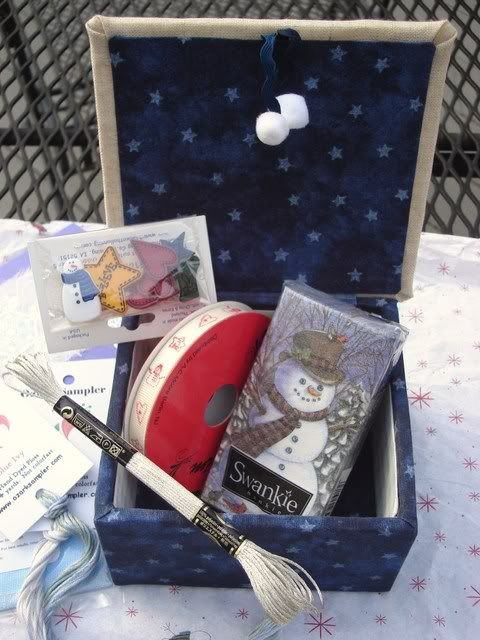 While in Vermont, I was able to complete the
Cole's Quilt
donation block. I must thank
Jen
for posting information about this program on her blog. I checked it out and immediately signed up to stitch a block. You can review the "Current Request" link and select a child to stitch for; I would encourage you to look.
Cole's Quilt Donation Block

Designer: Alma Lynn

Leaflet: For Every Little Princess
I completed four of the five PIF's (Pay-It-Forward) items and sent them out to Brenda, Donna, Heather, and Jen. No, I did not forget you Pokua I will be sending you yours soon.

PIF Pincushion sent to:
I want to thank you for your thoughtful comments on my Yorkie post, they certainly made me feel better and I do believe that things happen for a reason. Although I do not have a new puppy to show you I know for certain that I will find the right one soon!
Wishing you all a year filled with many hours of relaxing stitching!
Until next time...
(Vonna, I liked your new signature so much I copied :})