Saturday I will be flying off to Texas for a month where I will visit good friends and attend
International Quilt Festival
. This is a great Quilt Show with 1000+ vendor booths, hundreds of quilts on display, and an extensive class catalog. It is a Quilt Show like no other!
While browsing the Quilt Festival website I came across a great deal on a subscription to
Country Living
, 12 issues for just $5.00(
click here if you are interested
). Now if only I could find cross stitch magazine subscriptions for 5.00!
I spent the last two days making a baby quilt for my friend's grandbaby that is due in early December. I
really
wanted to complete the top this week so that I could bring it in to have it quilted while I am away. It took me two days to piece this, I was up until 4am this morning but I got it done. I am pleased with how it turned out; even happier that it is now at the quilters. Once it is complete I will take a better picture of it, I quickly snapped this before heading out and it is not the best.
I have completed the stitching on three exchanges and I may even be able to do the finishing before heading to Texas, fingers crossed! I did join Becky's Let's Stitch group and have decided to spend Friday nights stitching on my VOHRH. I am on block #6, have been since the spring, and I look forward to finally removing it from the WIPs Project Basket and completing it.
This is where I left off~

Well, the house is very quiet. Misha and Lily left for PA with my DS yesterday. He eagerly agreed to tend to them while I am away, but I am not quite sure he knows what he is in for with Little Miss Lily! She is nothing like Sweet Misha who, at 11 years, is an angel and SO easy.
Apparently, my DS has plans for Halloween that will include Lily (hopefully no wild college parties). Here is a peek at her costume, cute huh? OINK!
Lily 4 1/2 months ~ 2.5 pounds

I am not sure how much blogging I will do over the next month; I will probably read blogs but will not be updating mine for a while.
Have a great month and I will leave you with this image ~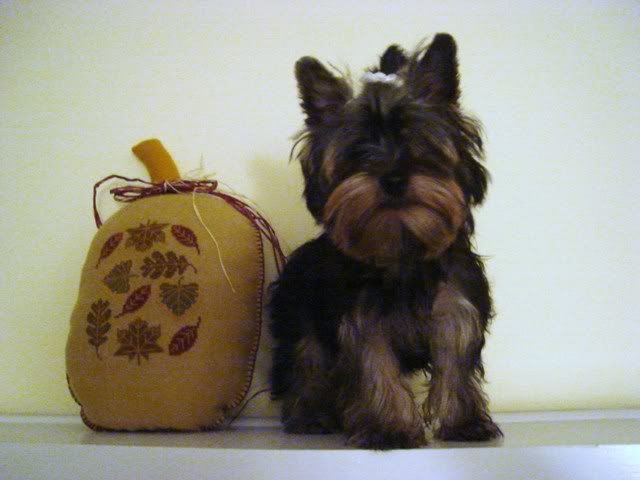 HAPPY FALL



Until next time...