I am still vacationing in Houston, Texas with only about two weeks left until I must return to the cold weather in the Northeast. I have been keeping very busy stitching quilt blocks, and sewing on Deb's NRR and exchanges. Yesterday I spent the day at the Quilt Festival; it was wonderful. I have posted a picture of one of the many gorgeous quilts hanging at festival.
I participated in the Prairie Schooler Exchange (HOE) and received a beautiful Pinkeep from
Karen K
. I love all of the PS designs but am truly partial to fall designs, this one is absolutely stunning.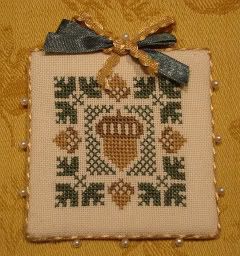 Karen included a great selection of extras including one of the older PS leaflets that I did not have. Thank you so much Karen, I appreciate everything that you sent!
HOE Prairie Schooler Exchange ~ Received from Karen K.

Wendy has received the Floss Tag Exchange (HOE) that I sent to her so I am now able to share pictures: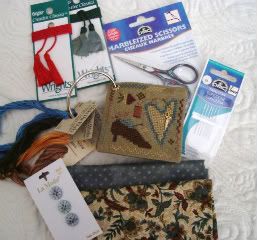 HOE Floss Tag Exchange ~ Sent to Wendy

I spent Thursday at the Quilt Festival in Houston and will be returning to the show on Saturday as well. I will leave you with a gorgeous quilt that was designed and stitched by Cynthia England of England Design Studio. She is an award winning quilter with an amazing talent; I encourage you to check out her website and take a look at all of her beautiful quilt patterns. Her latest patterns, Hens and Chicks and Barnyard Boss are wonderful. She offers a free pattern on her website if you are interested in trying out her Picture Piecing Technique.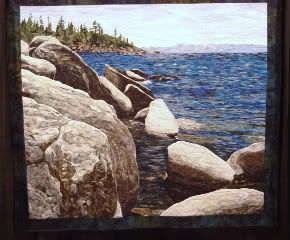 Have a wonderful weekend.

Until next time...