Well, my move has ended (for that, I am grateful!) and I am setting up home in the wonderful state of:
Thanks to all that participated in my "guess the state" contest. A number of you did guess correctly, so I put these names in a hat and pulled the winning name out:

You are the winner of the TEXAS Needleroll ~ Please email me with your address and I will send this out to you.
All 30,000 pounds of our personal belongings arrived at my doorstep on Feb. 26th. I am drowning in boxes and dreading opening each one. Here in Texas, there are no basements and storage space is limited. With each open box, I struggle with where to put all of this "STUFF" ~ my sewing room is maxed out and I still have oodles of boxes to unpack: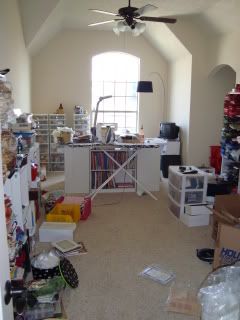 Given all of the unopened boxes in the media room, I am not certain when we will be able to properly set up this room: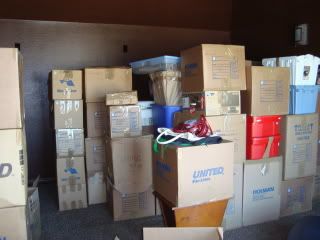 I have walked this path before and can take comfort in knowing that with time this chaos shall turn into an organized home!
Okay, on to some wonderful stitching pictures….
I received two wonderful exchanges; the first is from Brigitte who was my partner in the Friends through Threads Seasonal Exchange. I was overjoyed when I laid eyes on this gorgeous Stitcher's Bag:
Stitcher's Pocket from Brigitte

Beautifully stitched and finished! I just love the design it makes me smile. :D
Brigitte spoiled me with so many wonderful extras:
Seasonal Stitcher's Exchange - Winter
Many thanks Brigitte for making this a truly wonderful exchange!
I received the second exchange from Stephanie who stitched for me in the Prairie Schooler Exchange: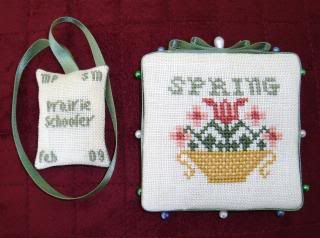 Prairie Schooler All Year Long
What a real treat, I got not one but two exchange pieces a beautiful Pinkeep and an adorable Scissor FOB. Stephanie you did an amazing job on these treasures and I cannot thank you enough for your time and generosity!
I can no longer sit at this computer so I will share pics of the Fair & Square blocks that I received in my next post. Must run...I hear boxes calling my name. Grrr!
Thanks for stopping by and I do look forward to your return.