My new Texas neighborhood is under construction with houses being built all around me and I have no idea when all this construction will be complete. The completed neighborhood that I am referring to is my Halloween Neighborhood.
Back in January 2008,
Carol
asked me if I would be interested in being a replacement stitcher in the
Hello Neighbor
Round Robin and I jumped at the opportunity to join in. I rushed to the LNS to select a large piece of 32 ct R & R linen, rushed home to baste the grid, and finally rushed to stitch in the first three gridded blocks (I had missed the first three stitching rotations). On February 1, 2008, I happily sent my Halloween theme neighborhood off looking like this: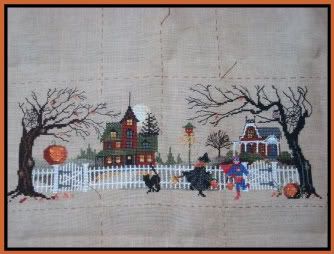 However, I was even happier when it returned looking like this:
Hello Neighbor Round Robin
Who would have guessed it would look this awesome??? I am so very pleased with my newly constructed neighborhood and must thank the builders:
You all selected such great designs and stitched them so beautifully; you are the reason that my neighborhood looks amazing. I have not yet decided how I will stitch your names into the neighborhood but they will be added! I also would like to include a Halloween verse at the very top, but I have yet to find the right one.
Carol I cannot thank you enough for inviting me to step in and join this talented group of stitchers. It was truly a rewarding experience and I have such a wonderfully stitched neighborhood that I will forever treasure.
Now that I am somewhat settled, I had the opportunity to do a bit of online shopping. I used the
Down Sunshine Lane
(great online shop!) gift certificate that sweet
Vonna
gave to me for my birthday and I purchased two patterns that I wanted SO much: LHN - Traveling Stitcher with thread chart pack, and Plum Street - My Pretties.
The "Traveling Stitcher" was newly released at the Nashville Needlework Market. What a great project keeper and needlebook design. I have wanted the "My Pretties" leaflet for quite some time and will almost certainly use this for a Halloween exchange ~ I just love the tin topper!
I am anxious to put needle to fabric on both of these…let me see, which one shall I start first? Knowing how I operate I will almost certainly have both of these on my WIP list very soon.
Thank you so much Vonna for the birthday gift and for your valued friendship.
I learned that
Nic
received the Drawn Thread Exchange that I sent her so I am free to share pictures with you. I stitched a section from the pattern titled: Brown Ranch Sampler and mounted it onto a photo book.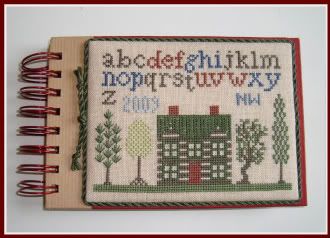 It is late and I have spent much of the day organizing and opening a few picture boxes so I did not get any stitching done today…or yesterday for that matter. I believe I hear the couch beckoning me to come sit and stitch for a while ~ music to my ears.

Thank you for taking the time to stop by it is always fun to hear from you. I hope you have a wonderful week, and that you find time to sit, stitch, and relax.