And that it was…Yesterday I opened my mailbox and found two packages tucked inside. The first is a beautiful gift from my very dear friend Vonna. Before I share a picture there is a bit of a story behind this:
While trying, like so many others, to sell our home during such a depressed housing market I had mentioned to Vonna our difficult struggle. She shared with me information on St. Joseph, the patron saint of home and family, and told me that some people who are in need of a faithful helper purchase St. Joseph statues. I was surprised at what I read online and it convinced me to purchase a small statue, not long after this we sold our house. Since he is a patron saint of homes and family, it was nice to have the St. Joseph statue in my house but recently I handed him over to an individual that I knew could truly use him. I shared this with Vonna but was quick to tell her that I would most certainly be purchasing a new one. To my surprise, Vonna sent me this beautiful St. Joseph statue along with a prayer card:
St. Joseph
Patron Saint of Home and Family

I am so happy to have this in my new home, even happier that it was given to me by such a wonderful friend! I shall treasure it for so many reasons, thank you dear Vonna!
My first exchange while in my new house came from Gabi, and what an amazing exchange piece it is. I participated in a Winter Quaker Exchange with the HOE group and this is what I received, feast your eyes on this gorgeous scissor pocket:
HOE: Winter Quaker
Scissor Pocket
Beautifully stitched by: Gabi

Fabric: Belfast Linen ~ Country Cream
Threads: Threadwork ~ Blue Navy
Are you drooling? :D I am speechless; this is beautifully stitched and finished! It just astounds me and I am so very grateful to Gabi for all the time she spent creating this. The pattern is by Barbara Bernard who designed it to honor the 10th anniversary of the Loudoun Sampler Guild; Gabi did however make a few minor changes. She also treated me to some very nice extras: A wonderful pair of stork scissor, a bag of decorative buttons, and some great braided trim. Thank you again Gabi for such a wonderful exchange!
HOE: Winter Quaker
Received from Gabi

Yes, I am still unpacking boxes. Some days I spend hours unpacking and arranging and then the next few days I will not even look at a box. Thankfully, all unpacked boxes are now upstairs so it is easy to avoid them. I will leave you with an updated picture of my sewing room. I wish that I could say that it was all done, but it is not. I decided that I must concentrate on putting away everything that was in there before I would haul in another box…yes, there are more boxes!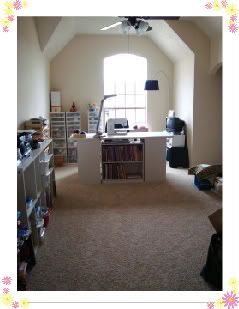 Thank you for all of your well wishes and for taking the time to stop by ~ Come back again soon!
Until next time...