As he stands in front of me holding this opened, and almost emptied, book box...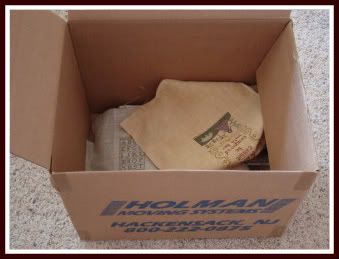 My eyes bulged, my heart skipped a beat, and my blood boiled as I spat these words, "OMG NO, that is not trash, that's my completed cross stitch pieces!" And this my friends is what could have easily been discarded…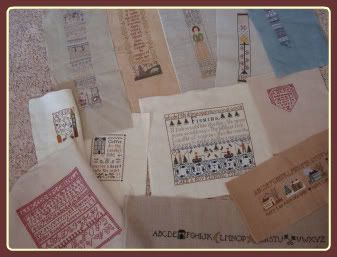 He, my husband that is, meant no harm ~ he was trying to be helpful. You see as I open boxes I tend to leave a small one for trash or items I no longer want and he thought he would be helpful and bring the box outside to pile with all of the others. Can you imagine sending these off for rubbish collection? I am not sure my marriage would have survived that. :D
All is well these lovelies are safe in my sewing room, a place that he does not enter. I did not realize that I had so many completed projects that needed finishing!
Yesterday was a very nice mail day. I received this beautiful exchange from Nic who stitched for me in the FTT Drawn Thread Exchange. She stitched a gorgeous scissor fob and a floss tag: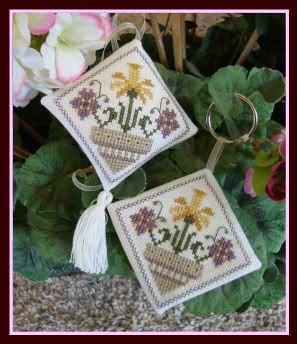 Friends Through Threads
Drawn Thread Exchange
Scissor Fob and Floss Tag
In addition, she sent some wonderful extras: a fat quarter, some ribbon, folding scissors, a note pad and some seed beads. Nic also sent a very nice card wishing me well in my new home and when I opened it I found the leaf buttons and flower bud; so very thoughtful.
Thank you so much Nic for the wonderful exchange, you certainly brightened my day!
I recently complete a Sheepish Design titled: Pray For Me. I stitched this one for my cousin but I have not decided how I will finish it. I would like to find a nice wooden box and mounted it on the top but if I cannot find one then I will frame it.
My friend had her first grand daughter so I made her
this quilt
and I also made this little door hanger but I forgot to post a picture of it.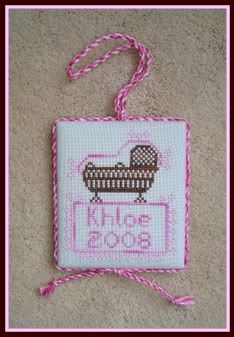 Recently I sent pictures of Little Lily to my son who sent me a text to say that she looks so much older, she has grown fast as you will see but she is still cute as ever.
Lily at 8 weeks ~ too cute!

Lily at 10 months ~ still too cute!
With that lovely picture, I will end this post! Thank you for taking the time to stop by for a visit and for your comments I do enjoy reading them.

Until next time...