If it were not for the postman it certainly would not feel like Christmas; it is much too hot for that!

I received a beautiful ornament from Verona. She stitched for me in the HOE Christmas in July and selected a LHN design titled, Holly and Berries.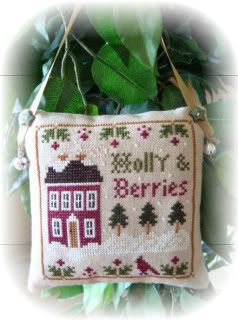 This is such a wonderful ornament that has been stitched and finished perfectly. I love the silver bells dangling from the ribbon! Verona treated me to a new pair of scissors, an array of ribbon, some adorable winter buttons and a little photo key chain.
Design: Holly and Berries
How lucky am I? I can hardly wait until Christmas when I will be able to hang this beautiful ornament on our tree. Thank you so much Verona for this very special exchange!



Not

long ago, I entered a blog Give-A-Way on
Deb's blog
and was surprised when I learned that I was one of the winners. Yes, one of the winners…Deb is not only one of the sweetest people she is also very generous. She has been known to give multiple gifts away in her drawing. I was the winner of this beautiful Needleroll Kit. Thanks again Deb, I look forward to stitching it!
Be

sure to stop by Deb's blog and read about
"Elaine's Quilt"
~ what a wonderful gesture of friendship!



Do

you remember when a collection of my stitched, but not "finished", sampler pieces almost ended up
in the trash
? I am happy to report that most are safely framed and waiting to be mounted on the wall. I am waiting until after my window shutters are installed before I hang any pictures, stitching, or quilts.



Here

are the latest framed pieces:

I stitched this for my younger son, who enjoys fishing, and put his initials in octagon shapes at the bottom.


Designer: Mary Garry Sewing Cabin
Design: Fishing (out of print)

I stitched this one to commemorate my oldest son's recent college graduation

Designer: Blackbird Design

This one was stitched as a reminder to my husband that "the best thing in his life is me" ;D


One of my very favorite movies is "The Wizard of OZ" so I had to stitch this
Designer: Drawn Thread
Designer: Shepherd's Bush
Some

of you asked who the designer is on the
Pray for Me
piece ~ that would be Sheepish Designs:
Design: Pray For Me
I am glad that you were able to stop by for a visit and do hope that you will come by again.
Enjoy your week ~ I shall leave you with this "Wishing Custom"
If you are riding over a bridge you've never crossed
before, lift your feet off the floor of the vehicle you're
riding in and make a wish.
(The driver, for obvious reasons, isn't suppose to make a wish)
Until next time...