I received a wonderful ornament from Kathy K. who stitched for me in the HOE Christmas Bird Exchange. She selected two different birds from Homespun Elegance and constructed this beautiful two sided ornament...
2012 HOE Christmas Bird Ornament
Designer: Homespun Elegance
Design: Merry Birdies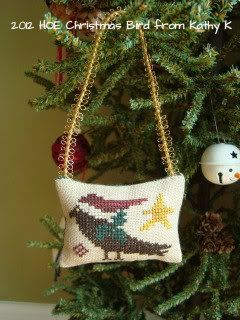 What a great ornament. I also received some sewing gadgets that will certainly come in handy. Thank you Kathy, I love what you sent.
My dear friend Carol offered up a few LHN patterns to me. It did not take long for me to complete this one...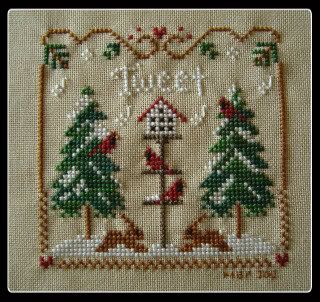 2011 Monthly Ornament
Designer: LHN
Design:Cardinal Winter
It now sits in my "finishing basket" along with a number of others. Thanks again Carol!
I believe that Margaret gifted this pattern to Carol, who gifted it to me, and I will gift it as well. If you would like this pattern just let me know in your comment. If more than one person is interested in it then I will draw a name on July 20th.
It has been less than three months since our sweet 15 year old Yorkshire Terrier passed away. I wanted to stitch something for my sampler wall and decided on this LHN design...
Designer: LHN
Design: Dog House Sampler
I was up for a quick stitch so I selected this little BBD gem...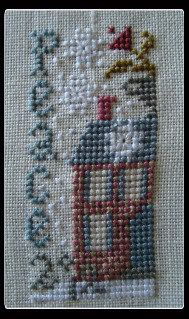 Designer: Blackbird Design
Design: Peace
From: 2009 JCS Christmas Ornaments
Here is a little something that I stitched for my cousin...
Designer: Blackbird Design
Design: I Thee Wed
This should have been posted on June 19th ~ a bit late but here it is, my TUSAL:
TUSAL ~ June 2012
Thanks for stopping by...