Yes, I have a handful of Blackbird Designs Stocking patterns but no, I have never stitched one. I have never received one either...that is until yesterday. A package arrived from Karen K. who stitched for me in the HOE BBD Ornament exchange and here is what I received: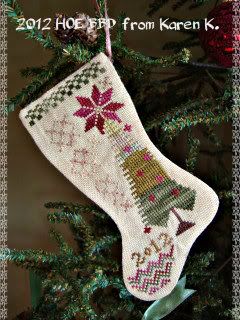 HOE BBD Ornament Exchange
Designer: Blackbird Designs
Design: Crowning the Tree
Stitched by: Karen K.
Wow, I could hardly believe my eyes. I love this stocking and am so happy to be able to hang it from my tree. This is absolutely gorgeous, so beautifully stitched and finished. Had my DSs not been here for the holiday weekend I would probably have grabbed a BBD stocking pattern from my stash and started feverishly stitching. Just the sight of this beauty had me truly motivated!!! I know for certain that on Tuesday I will be putting needle to fabric in my quest to finally stitch/finish one myself.
Many thanks Karen for surprising me with this fabulous exchange!
The past few months have been a stitching storm around here. I have been able to complete a number of projects...

This is what I stitch for HOE BBD exchange?
2012 HOE BBD Ornament Exchange
Design: Naughty or Nice
From BBD: Christmas Garden
Stitched for: Deanne


I learned that my Fair and Square Halloween Exchange blocks arrived so I can share those as well:
F&S Halloween Exchange
Designer: Birds of a Feather
Design: Halloween Icons
Birds of a Feather happens to be a favorite of mine. This witch, in all her craziness, makes me smile. I liked her so much I stitched it again and created this candle holder...
Like everyone I give much of what I stitch away but this one is a keeper. I love Halloween, I love Birds of a Feather, and I love candles so I can't part with it.
My very special, long time friend celebrated her birthday in July. I always try to whip something up for her and this year I managed to complete this:
Designer: Carriage House Samplings
Design From: Shores of Hawk Run Hollow
Stitched For: Mary K.
The finished design fit perfectly on the top of this purchased box. If only I knew where I bought the box I would rush back and pick up a few more.
I have a number of other completed projects to share but I will save them for another post.
Vermont days are starting to get cooler, fall is just around the corner and I could not be happier. Vermont appeals to me for so many reasons and here is just one:
Little Country Post Office
That's about it for today. Thanks for stopping by!