It did not take me long to finish stitching Autumn in New York but it did take me some time to figure out how to finish this piece. Here is what I decided to do with it...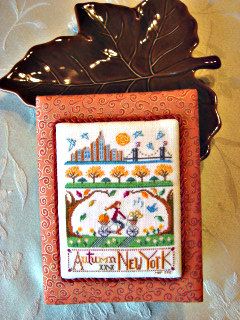 Designer: Primrose Needleworks
Fabric: 32ct linen over one
Floss: DMC
Stitched for: Meg C.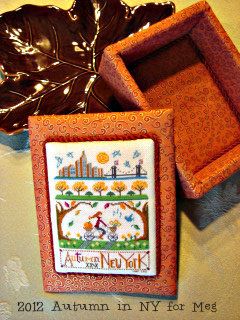 I purchased an unfinished wooden box and covered it with fabric. The box did not come with a lid so, with the help of my DH, I made the lid and mounted the stitched piece on the top. I had never tried this finish before and did not have any instructions to follow, as a result I had to "winging it" but I am pleased with how it turned out.
Remember this?
It now looks like this...
Stitched for: 2012 Graduation Quilt for Emily
75 x 98 Pieced Nine Patch
The
quilt top was quilted by Mary Lea, a wonderful machine quilter in Texas. I mailed her the top and asked her to do whatever she thought would look nice. She selected a swirly pantograph and quilted it with black thread. It turned out perfect!
Machine Quilting by: Mary Lea Reynolds
Polka Dot Backing ~ Black binding
My sewing machine has been getting more use these days. I am trying to finish my huge stack of UFOs. Here is the latest completed quilt top...
A number of years ago I participated in a group block exchange and these are the blocks that we exchanges. I actually completed the quilt top, less the borders, quite some time ago. Hard to believe that all this needed was the borders! Now I just need to get it quilted.
I recently attended the Champlain Valley Quilters' Guild Quilt Show and took pictures of some very pretty quilts. I will leave you with a few....
Thanks for stopping by...