This beautiful new ornament hangs on my tree...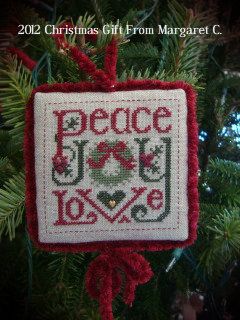 Designer: Drawn Thread
Design: Christmas Quartet
When my DH walked in with the mail he handed me a package. I assumed this was my Stitcher's Choice exchange but when I opened it I learned that Margaret C. sent me this beauty as a Christmas gift, how very sweet. What a great design! Did you notice the tiny heart charm? I had the pleasure of meeting Margaret in person in 2011 and 2012 at the Celebration of Needlework in Nashua, NH. Thank you so much Margaret, I truly appreciate your thoughtfulness and I will treasure my new ornament. I look forward to seeing you and Carol at the show in May.
Designer: Prairie Schooler
Design: Christmas Alphabet Book #64
Well, I loved this design so much I stitched it again for my dear friend Mary, but I finished this one as an ornament.
Designer: Prairie Schooler
Design: Christmas Alphabet Book #64
I am positive that this will not be the last one that I stitch. Hopefully this time next year I will have stitched one for my DH, DS, and myself.
For the Caraghers' I stitched this little gem...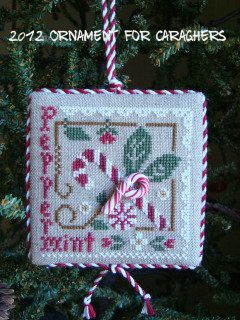 Designer: Little House Needlework
Monthly Ornament
Design: Peppermint Twist
(2010 Sept)
Stitched for: The Caraghers'
And for my dear friend Carol I stitched this Shepherd's Bush design...
Designer: Shepherd's Bush
Design: Christmas Treat Bag
Stitched for: Carol S.
Many years ago Shepherd's Bush was my all time favorite designer. I still love their designs but the stitching world has seen so many extremely talented designers enter the industry, introducing some truly wonderful designs. I no longer have "A" favorite designer, I have many favorite designers. Hopefully I will find time
make time in 2013 to stitch more SB designs.
In my last post I mentioned that I placed an order with The Thread Basket for 2 designs from the French Designer, Tournicoton. My order was nicely packaged in this toile tissue paper...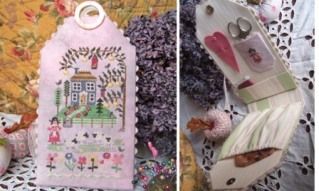 Design: Rendez-vous A La Maison Bleue
The finishing instructions for "A La Maison Bleue" are written in French...nope, have no knowledge of the french language. With the numerous instructional pictures, and the help of google translate, I should be able to figure it out.
The finishing instructions on this design are written in English...phew!
I did manage to complete the stitching on Stacy Nash Primitives Blue Sewing Roll. The finishing on this one is not very complex so I should be able to finish it and post pictures soon.
That's all for now...it's time to grab my stitching basket and see what I should work on next.