Two weeks in Germany left me with a pile of mail to sort through. Within that pile I found two wonderful packages, one from Melissa and one from Carol S.
Melissa and I were paired for the Friends Through Threads Birthday Exchange. My birthday is not until the 29th but I could not resist, I just had to open the package. What an amazing birthday surprise...
2012 FTT Birthday Exchange
Designer: Blackbird Design
Design: From Christmas Garden
Naughty or Nice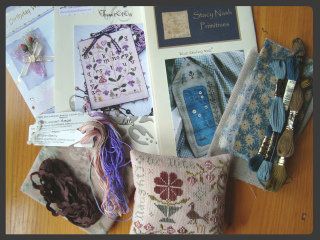 2012 FTT Birthday Exchange
From: Melissa
I was more than excited to see all the wonderful gifts Melissa sent me: a beautifully stitched BBD Pillow, gorgeous silk fibers, a pretty Moda fabric fat quarter, ric rac trim, Stacy Nash Primitives Sewing Roll pattern (including the kit to make this design), and a chart by Tournicoton called Allons Compter Violettes.
I am a huge fan of Stacy Nash and plan to begin stitching the sewing roll tonight! I was not familiar with the French designer Tournicoton but love this pattern...so much so that I just purchased two additional designs! Check here to view more designs. I also came across this cute freebie:
(Available until mid January)
Melissa, thank you very much for making my birthday extra special
! I truly appreciate your generosity and love everything that you sent.
What did I receive from my dear friend Carol? This little beauty...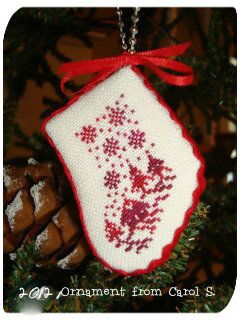 Designer: JBW Design
Design: Red Stocking Collection II
32ct white Belfast Linen ~ over one
Wow, this took my breath away. I love *little* and this is very little, not to mention perfectly stitched and finished. Thank you so much Carol, you are a truly thoughtful and valued friend!
My trip to Germany was exciting and fun but it left me with little time to decorate the house for the holiday, shop for gifts, and prepare for the Christmas dinner. My DS (G&D) arrive in 3 short days and will be able to spend a week with us; I can hardly wait. Not only will they be here for Christmas, they will be here for my birthday (a huge benefit to having a birthday just days after Christmas!). I will not find time to blog again before the holiday so I...
Wish you
The gift of love. The gift of peace. The gift of happiness. May all these be yours this holiday season.