Not really, but it certainly feels that way!
I headed off to the post office today wondering if my Friendship Exchange would be waiting (I always get excited about getting "fun" mail vs junk or bills). When I popped open my box I saw that special little yellow card instructing me to go to the window for a pick up. Y-E-S, my exchange would be waiting, I was certain.
I did not even leave the post office before I opened Janet's package and gazed upon my lottery winnings: A beautiful stitcher's caddy...
2013 HOE Friendship
Designer: Homespun Elegance
Design: Friendship and Blossoms
Little french knots used for the ladybug spots and on the flowers, and a little charm ~ so cute.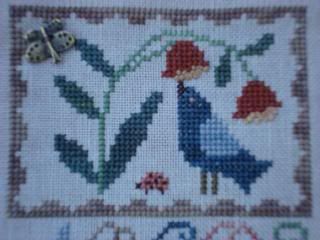 How happy was I?
Well, I just wanted to do a little happy dance right there in the post office but I live in this town and I don't want to be pegged: "the crazy lady". Seriously, the minute I saw this my heart smiled. I was on my way to the gym and felt like skipping that and heading back home to sit and enjoy this beauty...okay, I hate going to the gym so I was probably just looking for any excuse not to go ~ I was good, I did head to the gym.
Once home my husband sorted through the mail and quickly asked, "What's this?" I informed him that was my GORGEOUS exchange. He was so impressed that he actually suggested that we hang it up, display it for all to see. Nope, I needed this and am going to use it. Keeping my many WIPs organized is a challenge so this is exactly what I needed.
Thank you again Janet. Your work is impeccable, your thoughtfulness is immense, and my appreciation for that is most certainly sincere!
What did I send out to my partner Mylene?
2013 HOE Friendship
Designer: Cosmic Handmade
Finish: Scissor Holder
Fabric: 32ct Evenweave over one
With my finger healed from the rotary cutting incident I have resumed work on my Fun and Done quilt and can share a progress picture with you....
All of the 100 blocks are complete and I have started the process of stitching them into rows.
I am off to draft a HOE Post for another exchange...A Halloween Exchange, so keep an eye out.
Why do I love Vermont?
Thanks for stopping by ~ Have a great week!
Until next time...