I participated in a recent HOE Stitcher's Choice Exchange and received a beautiful ornament from Amy. Here is a picture...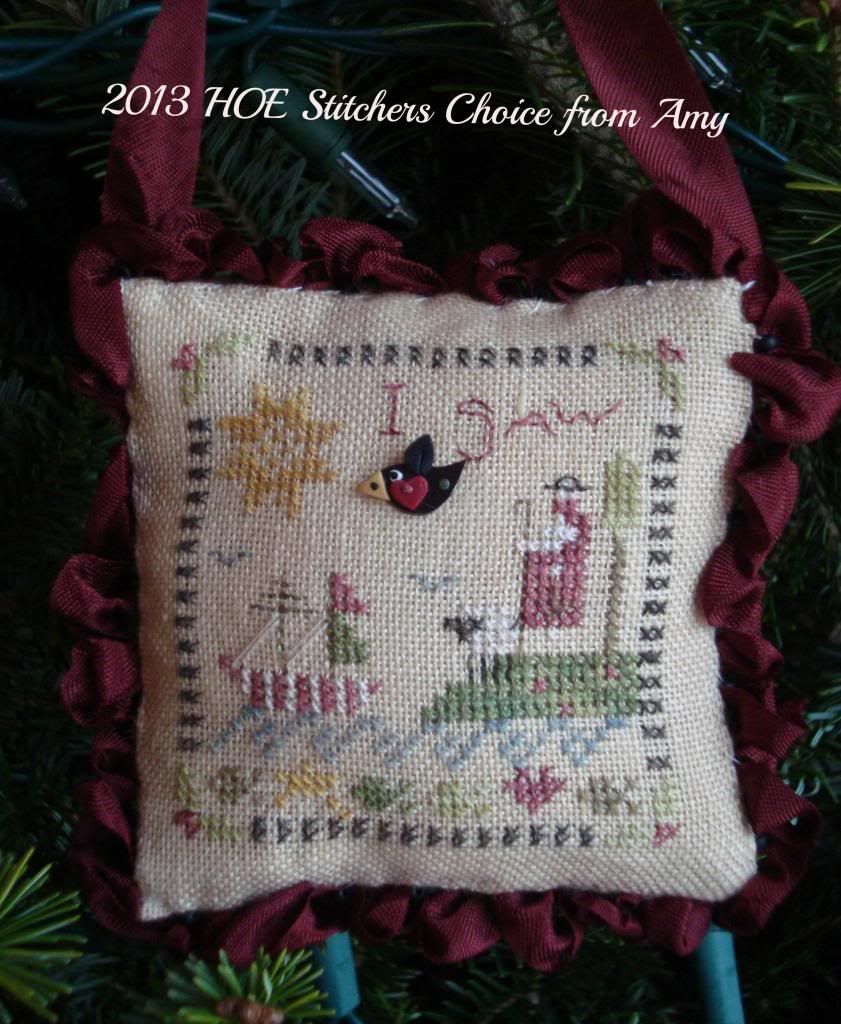 Designer: Shepherd's Bush
Design: I Saw
From: 2013 JCS Ornament Issue
Amy ruched the trim using a beautiful ribbon that perfectly compliments the design. Did you see the adorable little bird button? Too cute!
I can't thank you enough Amy. The ornament adorns my recently decorated tree and looks fabulous.
Christmas Glitter is complete and en route to Austria.
Designer: Susan Probst
Stitched for: Markus K
Each tree was hand appliqued onto the background and then I accented each one by stitching the garland using gold metallic thread. A silver snowflake button tops each tree.
In keeping with the "Tree" theme I stitched LHN Joy and Peace and included the ornament with the wall quilt...
December has arrived so we can put out our bird feeder without the fear of a big backyard bear ripping it from the shepherds hook, lying on the ground, and emptying all the bird seed. Yes, that did happen and I was beyond horrified and truly scared. It is so nice to view the birds from my kitchen window.
Thanks for stopping by and...
Until next time ~ Remember:
The joy of brightening other lives, bearing each others' burdens, easing other's loads and supplanting empty hearts and lives with generous gifts becomes for us the magic of Christmas.