My Christmas was spent vacationing for 12 days in sunny, but not so warm, California. It was nice to get home. Opening this beautiful ornament made it even nicer…
Designer: Blackbird Designs
Design: Noel Stocking
Gorgeous, truly gorgeous! My friend Margaret stitched this beauty; it is perfect in every way: beautiful design, beautiful colors, beautifully stitched, beautifully finished! Makes me so happy that I have a tall, thin tree that I keep up all year. I certainly don't want to pack this away until next year, I want to enjoy it all year. Thank you, Margaret, for your gift and your friendship.

Here is one last ornament that I sent out to my dear friend, Vonna. I wanted to stitch a PS design for her Prairie Schooler tree. The first design that I stitched, but did not send, was the Mini Nutcracker Santa (1996 mini card). While reading Vonna's blog I noticed that she had two Nutcracker Santa ornaments hanging on her PS tree! No worries, I kept the Nutcracker Santa but got busy stitching this design…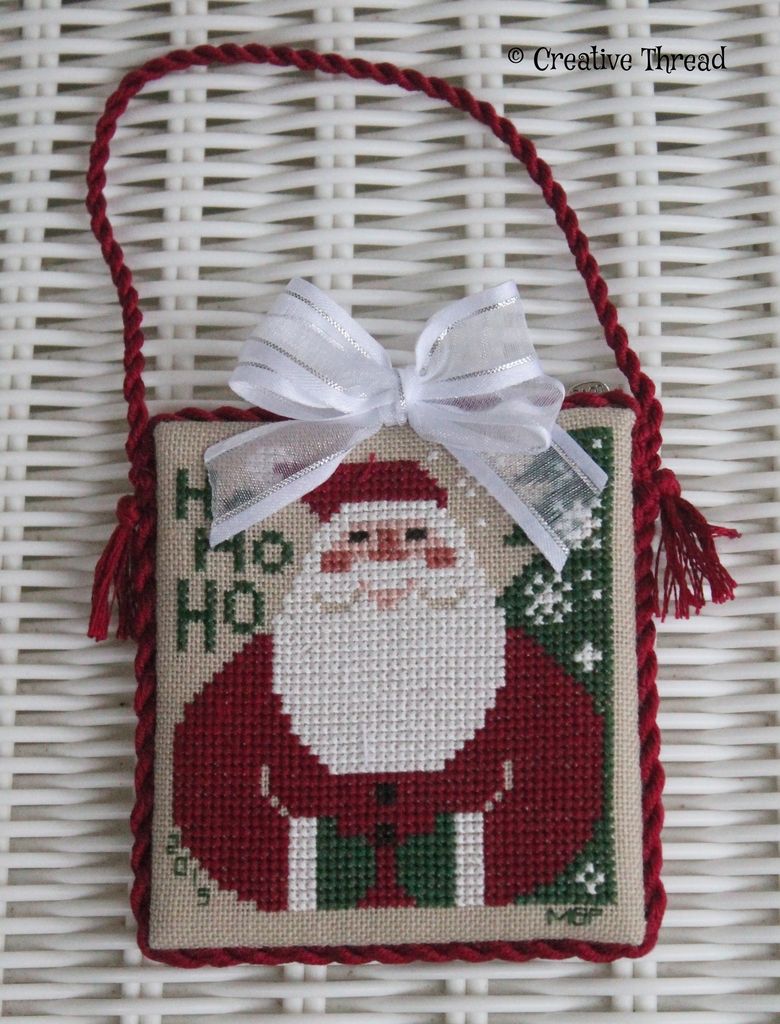 2015 Christmas Ornament for Vonna
Designer: Prairie Schooler
Design: HoHoHo Santa
From: 2014 JCS Ornament Issue
I rang in the new year with my DH aboard a United Airline flight from CA. We arrived home in the early morning where we were greeted by my oldest son and DIL. Yahoo! They stayed with us from Friday-Sunday where we had delayed Christmas. Everyday that they are able to travel here feels like Christmas! They have since headed back to NYC and shall return when the snow falls…if it ever does!
Ugh, bad start to the ski season in Vermont.
Wishing you a Happy New Year!
May all of your dreams turn into reality
and all your efforts into great achievements.
Until next time…