I attended the Quilt Challenge reveal luncheon where I saw some very pretty and creative wall hangings, table runners, and a bed quilt. My local shop hosted a Dresden Plate quilt challenge so I decided to sign up and spent the past few months in my sewing room.

The Dresden Plate pattern was first published in 1920 and became extremely popular through the 1930's. The design was known by several names:
But more often you see the blocks with either rounded petals....
Or pointed petals....
Not sure what to stitch, I searched the Internet and found a picture that inspired me. Here is an in progress picture of the wall quilt that I made...
My search for "just the right color" of Ric Rac left me in a quandary, I managed to find the right color but it was not the right size. What would I use for the stem? Given the large selection of ribbon in the store I managed to find what I needed and set out to do some Ruching...approximately 10 feet for the stem work.
After many weeks I successfully completed my entry just days before the Quilt Challenge Reveal and here it is...
2013 Dresden Plate Quilt Challenge


I attended the luncheon at the quilt shop where I met some nice ladies, saw some wonderful quilt entries, tasted some delicious food, and had my entry judged.
So, how did I fair in this challenge?
I took 2nd place and was awarded a $75.00 Gift Certificate to the quilt shop.
First Place
2nd Place
3rd Place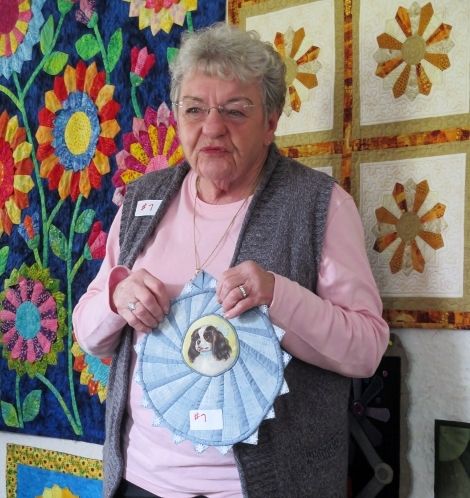 As you can see there were many beautiful entries!
For those interested in making a Dresden Plate block or quilt, HERE is a good tutorial. If you prefer a YouTube video I found one HERE.
Thanks for stopping by. Have a great day!
Until Next time...