I am so excited...I received a wonderful exchange from Barbara that smelled delightful. She stitched me this darling Scissor FOB, and included the stork scissors as well. The FOB is filled with
Lavender
and a good-luck coin!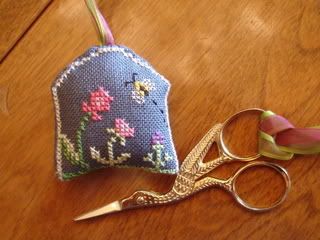 Scissor FOB from Barbara
Design: Bee Spring!
Designer: Wonderful Stitches


On the back she stitched 2007, and included an adorable Bee charm.
I was treated to a number of great gifts: Quaker Bee Sampler pattern by
Chessie
& Me, very pretty ribbon, beautiful
note cards
, a neat bookmark, and some
lavender
soap! (oops, just realized the soap is not in the picture...it is keeping my sewing room smelling sweet!) :-}

Barbara, I can not thank you enough for this wonderful exchange!!!

My summer stay in Vermont has come to an end. I am home now (making it far easier to blog and post pictures) and will return to Vermont on most weekends. It is such a beautiful state! I look forward to the fall when colors burst all around you!
Here are just a few pictures:
As you exit our road this is the lake that you see. Both my boys enjoy jet skiing, fishing, and boating on the pontoon boat. I remain at home, usually stitching and enjoying this view:
View from the deck: Sugar Shack and Pond

Our property sits on 40+ acres, most of it wooded. In the distance you see the sugar shack, for making maple syrup. No, I do not make ~ it I purchase it. If you ever want Vermont's best maple syrup (really)...try Green's in Poultney, VT.
View from the deck: Apple Orchard
Thanks for all of your very kind comments. It is always great to hear from you!
Until next time...