USEBB: Summer House Exchange
I participated in the USEBB Summer House Exchange and received this wonderful fabric basket from
Chris
. The Chessie & Me design was beautifully stitched over one! I absolutely love the look of designs stitched over one AND I truly appreciate the time that it takes! I have stitched a few designs over one and it takes FOREVER :-).
I had not seen this type of finish before, I just might try it myself. It is quite clever, when you tie the four corner ribbons it forms this great little fabric basket.

Chris also included three threads from Gentle Art and one from WDW. The colors are gorgeous and will work their way into a design soon. I also received a very pretty, and much needed, Notepad and Accessory gift set.
Thanks so much for everything, you made this such a special exchange!

For The Birds Exchange

I sent my USEBB "For The Birds Exchange" to Nancy and since it has been received I can share this photo with you. I selected a Prairie Schooler Design and stitched it on 40 count over one.
After seeing this on
Annemarie's
blog I immediately set out to purchase the chart. I just had to make one of her famous Floss FOB's. I knew when I signed up for this exchange that it would be perfect!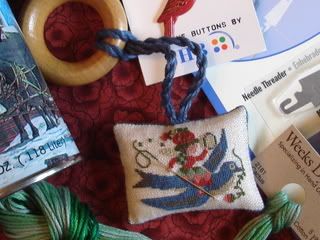 USEBB: For The Birds Exchange

PS Prairie Fairie
Thanks so much for stopping by and for all of your wonderful comments!
Until next time...