I am smiling ear to ear over the two beautiful exchanges that I received from two simply wonderful stitching friends~ the first from
Amy
: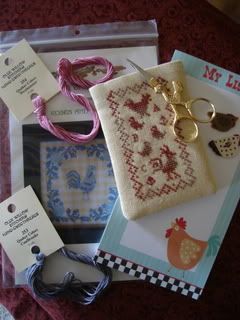 Lil Critter Exchange from Amy
I participated in the
SBEBB
"Lil Critter"
Exchange and received this beautiful Scissor Case as well as a great assortment of treasures from Amy. As part of the exchange we were to select a "Critter" ~ I decided on a Rooster/Chicken. She stitched this design from Coq Au Pins by Twisted Oaks. No surprise Amy did a beautiful job on the stitching and finishing! I must point out that both sides of this are stitched! Such a generous heart Amy also included the adorable Rooster scissors, two buttons from Just Another Button Co., some specialty threads from Olde Willow Stitchery, a Rooster notepad, and a fabulous Twisted Oaks pattern titled: Roses and Rooster. My VT kitchen has a Rooster/Chicken decorating theme so I am very anxious to stitch this up and display it.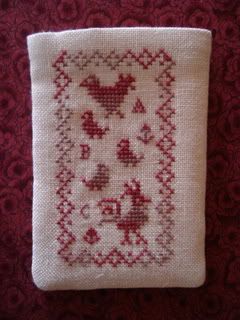 Lil Critter Scissor Case ~
Stitched by Amy
I am so very thankful to Amy for making this such a wonderful exchange and for the time that she spent stitching and finishing the beautiful Scissor Case...I treasure it!
The second exchange was received from Becky...

USEBB For The Birds Exchange from Becky

My mailbox was packed...Becky sent me a huge, and I mean HUGE, box which contained the
USEBB
For The Birds Exchange.
I was not too sure if there was actually a bottom to this box. You see the items that I pulled out kept coming!!! Becky stitched not one but TWO items for me (not too sure why I was blessed in this way, but I am appreciative of all of her work :-D)!
USEBB For The Birds Exchange~Stitiched by: Becky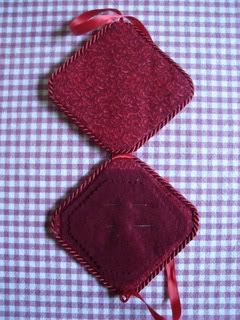 The first is a gorgeous Needlecase. In an previous exchange she sent me an equally gorgeous Pinkeep that goes with this. They will look wonderful, side by side, in my display case. The second stitched item is this adorable Summer Bird Pinkeep. These seasonal bird designs are a real favorite of mine, I just love the long legs!
While reading a blog I had seen some gorgeous "Marking Pins" and was surprised when I read that Becky had made them. At first I thought that I read it wrong, but I had not. I emailed Becky to comment on these beautiful pins! Well, am I the lucky one...Becky sent me two set of these beauties :-). I am hoping to design some type of "Marking Pin Case" so that they will never get lost!!!
Becky's Handmade "Marking Pins"

Becky truly spoiled me with this exchange I can't thank her enough for all that she sent and for the time and effort she spent creating these treasures!!!

PIF UPDATE: Thanks Heather for joining the group. I now have the required five participants and am looking forward to stitching each of you something special! I believe that I just need to get Jen's address.
Thanks for stopping by and have a wonderful week!

Until next time...