I am so very happy that the college search and application process is over. My youngest son will be graduating high school on May 8th and has decided to attend Lehigh University (PA) in the fall studying Mechanical Engineering. As any quilter knows, we must send our children off with well wishes and a college quilt. When I saw this quilt pictured in a Fons and Porter magazine, I knew that I would make it for my son. I machine pieced the top but as always I paid to have it machine quilted. Last Saturday I spent the day putting the binding on; now all it needs is a quilt label.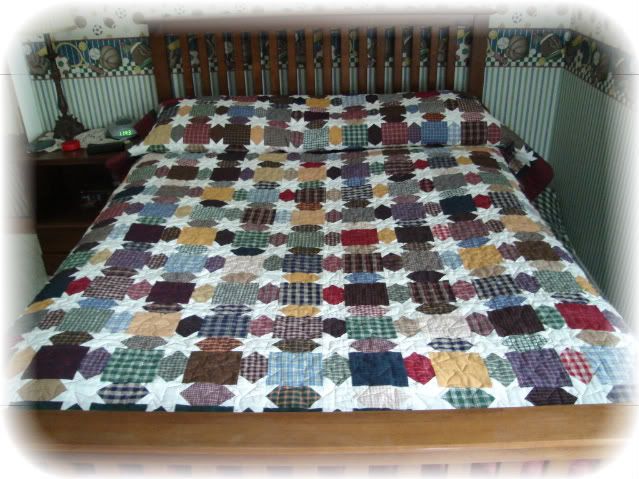 Drew's College Quilt ~ Scrappy Star
Fons and Porter's Love of Quilting July/August 1999
Given his genuine interest in Corvettes, this backing fabric is perfect!


And here he is riding in his favorite car. Lucky him, he will be driving this to his senior prom next week.
2008 Corvette
Fast Fact:
Memorial Day is a United States Federal Holiday that is observed on the last Monday of May (observed in 2008 on May 26). It was formerly known as Decoration Day. This holiday commemorates U.S. men and women who have died in military service to their country. It began first to honor Union soldiers who died during the American Civil War. After World War I, it was expanded to include those who died in any war or military action.
For those that have served, and are serving our country....thank you!
I hope that you all have a great (long) weekend!

Until next time...