I just love the
Fair & Square Group
and am so very happy to be a member. Thank you
Vonna
for all that you do to keep this group active and successful.
I have participated in each round, 1-7 thus far, and have joined in on my first "holiday theme" round (4th of July). My partner, Diana, is so very sweet and generous. She selected a great Lizzie & Kate design. Let me say that her stitching is perfect, she uses the railroad method of stitching. As many know, this method slows you down but it will help the strands of floss to lay side-by-side instead of twisting.
Diana also included some fantastic extras: LHN pattern, ribbon, needles, patriotic fabric and buttons! Thank you so much Diana for everything! I do hope that you are able to start a blog someday soon so that you can share your beautiful work.
Fair & Square 4th of July Exchange
Stitched by: Diana J
Designer: Lizzie & Kate
Here are the squares that I sent to Diana: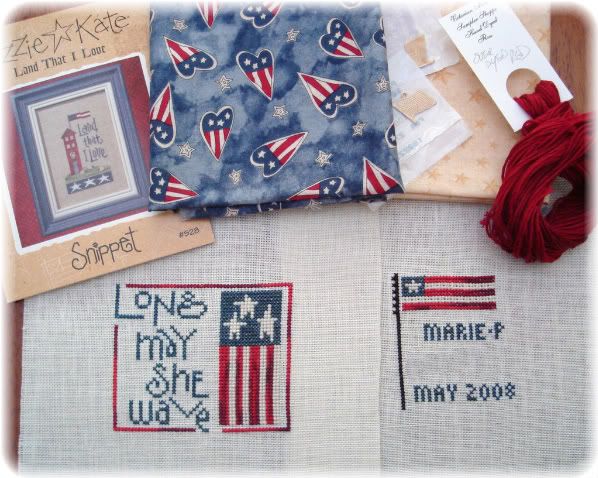 Fair & Square 4th of July
Designer: Heart and Hand
Design: Olde Glory


Have you visited the
Stitch Pink
blog yet? Stop on by her wonderful blog dedicated to breast cancer awareness, you can enter her contest as well!
I feel as if I have not left this computer all day so I am must end now and get a few things done.
Thanks so much for your kind words about the college quilt, it is just too bad that I can't send the quilt off to college and keep my son here at home...he will be missed!
Until next time...