Did you know that coffee grounds are great for the garden??? As an avid coffee drinker, I discard pounds of these grounds, almost daily. :D After learning that they can be recycled in the garden I will start sprinkling them on my plants to see if there is a noticeable difference. While at my local Border Books today, I noticed that the Seattle Café was offering free bags of their used coffee grounds.

Here is a bit of information that I found at a website called Sustainable Enterprise:


Coffee and Gardening
Every day across America, Asia and Europe, millions of pots of coffee and tea are brewed, and the millions of pounds of wet grounds, filters and bags thrown in the trash. This is both wasteful and foolish.

Coffee by-products can be used in the garden and farm as follows:



Sprinkle used grounds around plants before rain or watering, for a slow-release nitrogen.

Add to compost piles to increase nitrogen balance. Coffee filters and tea bags break down rapidly during composting.

Dilute with water for a gentle, fast-acting liquid fertilizer. Use about a half-pound can of wet grounds in a five-gallon bucket of water; let sit outdoors to achieve ambient temperature.

Mix into soil for houseplants or new vegetable beds.

Encircle the base of the plant with a coffee and eggshell barrier to repel pests.

If you are into vermi-posting, feed a little bit to your worms.
Now for some stitching news....
I completed my block for Carol's Neighborhood Round Robin. I always seem to struggle to capture a good picture of the items that I stitch, this is the best that I could get. Maybe I should take a class in photography, then again maybe I should try reading the camera manual (oh, how I hate reading manuals!).
My addition to Carol's neighborhood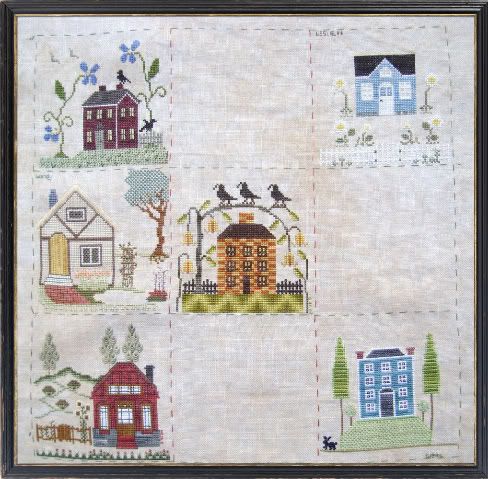 Carol's Neighborhood Round Robin
While reading Wanda's blog I learned of an online eBay store called Victorian Motto Sampler Shoppe, which offers a great selection of hand-dyed floss. Each skein is a generous 20 yards and sells for $2.00. When you purchase four skeins, she includes a FREE skein to cover shipping it cannot get better than that! Well, I placed my order and within a few short days I received this:
Victorian Motto Hand-Dyed Floss
I am looking forward to using this floss, the colors are wonderful and the service was excellent! Last night I purchased even more, I can't wait until it arrives. Wanda learned of this store from Staci's blog so thanks to both of you for the post!
I guess it is time now to end this post so that I can Sit and Stitch for a while, I signed up for a few more exchanges so I must get a move on. Thanks for visiting and I do hope that you have a wonderful week.
Until next time...