I sent off my last exchange for the 2007-2008 Seasonal Stitchers Exchange.
Leena
posted that it arrived so I am free to share pictures.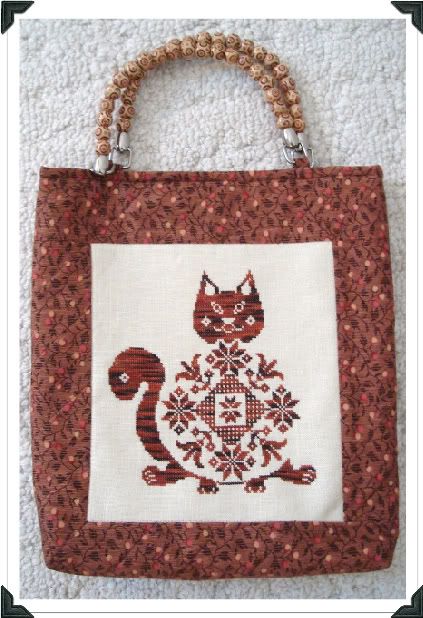 Our final exchange was suppose to be a "Spring" exchange but knowing how much Leena loves cats, I wanted to stitch her this design. I did ask her in advance if she would mind if I stitched something without a "spring" theme and was glad that she did not object. I love this design but once I completed the stitching I had no idea how to finish it. I had already sent Leena a pinkeep, flat fold, and stitcher's caddy. I visited quite a few blogs in hopes of seeing a picture that would help me with a finishing idea. To my surprise I saw this same design finished as a tote bag (sorry, I can't remember the blog) and I loved it. Being a quilter I have done quite a bit of sewing, and have a huge stash of fabric! Although I have made tote bags before, I have never used the fancy tote bag handles and was lucky to find a pair that coordinated so well.
Seasonal Stitchers Exchange
The '07-08 rotation of the Seasonal Stitchers Exchange is over and I must say that stitching for Leena has been a true pleasure! Leena, I am glad that I have had the opportunity to get to know you and I am so happy to have you as an online friend, you are very sweet!

Fortunately,
Becky
has been kind enough to run this exchange again and I am truly excited. I have been paired with Vonna who I consider my very 1st blogging friend! I am thrilled and honored to stitch for you
Vonna
and look forward to mailing out a Fall, Winter, Spring and Summer exchange to you!
PLANTING PROGRESS
I have been saving my coffee grounds and sprinkling them on my plants. Surprisingly the plants are looking good however saving my coffee grounds makes me realize that I drink much too much coffee! Oh well the plants need it! I was surprised at how many people commented that they too feed their plants coffee grounds, tea bags, even eggshells…I am a stitcher, quilter, crafter, but not a very good gardener so this is all new to me. Here are a few pictures of my plants, remember now I do NOT have a green thumb!
I would list the plants in this container but I can't remember what they are! When I went to the local garden center I had a worker pick out the plants for me...I think she did a great job! :)
Thanks for taking the time to drop by, I enjoy and appreciate each and every comment!
Until next time...