Today was a busy mail day around here. As I headed out to the post office to mail my SBEBB ABC Exchange, I noticed two boxes in my garage. I quickly ran them in the house and ran back out again. After completing a number of errands, I anxiously arrived home to see what was in those boxes. Before entering I picked up my mail and what do you know another exchange! Once inside I set out to discover the mystery of the exchanges. In box one I found a fabulous Spring Exchange from Julianne. She stitched me the Country Lark Design by JBW; it is wonderful would you agree? I love that she finished it as a flanged pillow and am impressed with her selection of fabric, it coordinates perfectly.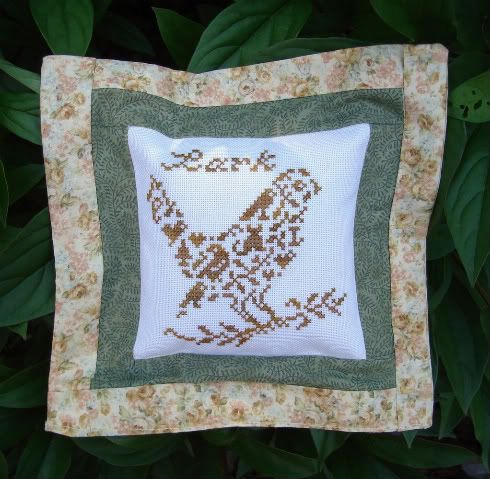 Designer: JBW
Design: Country Lark
Stitched by: Julianne
In addition, look at all of these extras! Julianne, you are so very generous and I appreciate it more than I can say.


Seasonal Stitchers Spring Exchange

Thanks Julianne for the Summer, Fall, Winter and Spring exchanges that you stitched for me. You certainly do beautiful work, in your stitching and finishing. I appreciate all of the time that you spent this past year stitching for me; I will treasure each piece!


The next box that I opened happened to be the Hooked On Exchanges Freebie sent by Veronica. Is this piece amazing or what? What a gorgeous scissor case with some lovely scissors as well.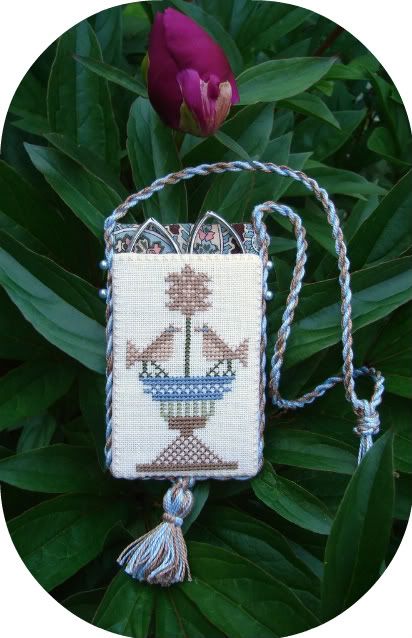 HOE Freebie Exchange
Design: Berthi's Birdbath
I love the fabric selection for the backside as well as the perfectly matched cording. I wonder if Veronica has one of my
Must Have Gadgets
?
Veronica thank you so much for the scissor case, I am grinning from ear to ear. Again I was spoiled with so many fabulous extras. I do not have either of the charts that you sent and am so anxious to stitch from them. One of the charts is titled, "Whitman's Tin Sewing Set" and Veronica even included the tin, thanks so much. The note cards are so pretty, with so many exchanges I am always in need of these.
HOE: Freebie Exchange
From Veronica


I discovered Veronica's Blog today and I was quite impressed she is a multi talented person that enjoys not only cross stitch but quilting, hand embroidery, knitting, spinning, weaving and thread painting. Curious about thread painting? Check out this piece, it is adorable. It did not take me but a minute to add her blog to my sidebar. :)
My final package of the day came from
Ruth
. She is my Fair & Square Partner for round #7 and she sent me these beautiful squares. (Sorry, I have tried and tried for a better quality picture with no luck)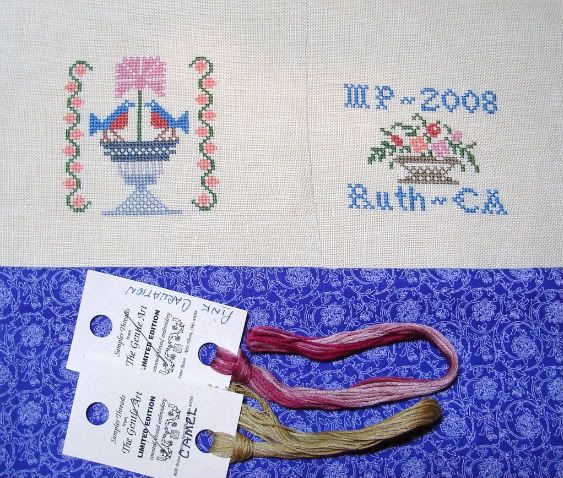 Do you see what I see? Now, what are the odds of receiving the same design, from two separate exchanges, on the same day? LOL Yes, it appears that Ruth and Veronica selected the same design to stitch. The colors are completely different, the flower is different and Ruth stitched side borders. Both are gorgeous and I am delighted to have them.
The signature block is just as beautiful. She stitched the basket design from Papillon's Mystery Sampler which is a wonderful sampler offered in
The Gift of Stitching Magazine
.
Ruth also included some Sampler Threads and a beautiful fat quarter of fabric. Thanks so much Ruth, your stitching is perfect and I do love the design.
I must end now so that I can work on my blocks for Ruth.
Until next time...