WAHOO! The quilt is back from the quilter and is complete, except for the label that is. I spent last night applying the binding and as soon as I finish this post, it is up to the sewing room to make the label. Here it is in all its glory…
It's Done!
WAHOO! Primitive Wizard of Oz is stitched and framed, in record time I might add.
It's Done!
Designer: Midsummer Night Design
WAHOO! Scatter Seeds of Kindness is complete. Okay, the stitching was completed in 2001 (no, this is not a typo ~ it has been stashed in a drawer for 9 years) but it is finally framed.
It's Done!
Design: Scatter Seeds of Kindness
Mary Garry designs may well be my favorite! Seeing this one framed makes me want to immediately stitch all of the charts that I have in my collection. Although I probably will not do this, I am moving some of them up on my "to do list".
I got my son to hang both on the sampler wall. Here he is in action: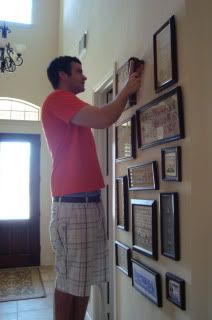 Naturally, he had to do a bit of clowning around. Yup, made me laugh!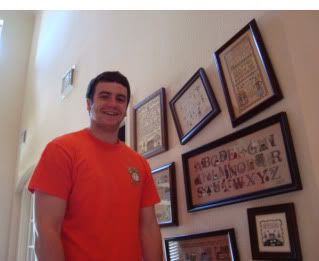 I am happy to say that he follows instructions well and returned the pictures to their correct position.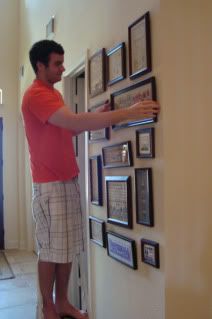 It is difficult to get a decent picture but here it is: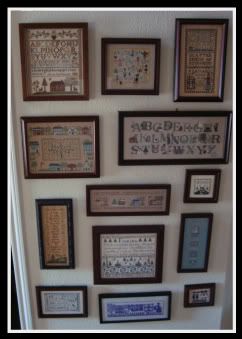 Just when you think that life can't get any better, the mail person delivers this…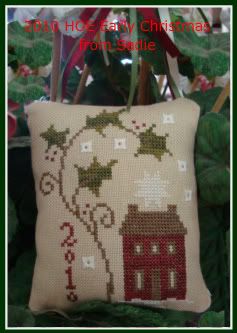 HOE Early Christmas Exchange
Design: House on Holly Hill
Sadie had my name for the HOE Early Christmas Exchange and stitched this beautiful ornament! I immediately recognized that it was a design by BBD (one of my very favorite designers). Thank you Sadie, it will make a wonderful addition to my Christmas tree!
I hope that you are all enjoying your weekend. It is rather hot and humid here in Texas so I shall remain indoors and stitch.