Another great mail day, my SBEBB: ABC Exchange arrived…I received an amazing exchange piece from
Ulla
in Finland. What a gorgeous Quaker Humbug Ornament, so beautifully stitched and finished. I am more than impressed with Ulla's talent and more than thankful for all of the time that she dedicated to this exchange.
I was treated to so many extras: a Shepherd's Bush Leaflet titled, Be Sweet, hand dyed floss in my favorite color, some tapestry needles that are packaged so nicely, and a magnetic note pad. Ulla, I cannot thank you enough for this wonderful exchange; I love everything that you sent!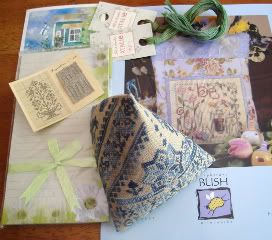 I must share the detail, isn't is gorgeous?
Okay, I have another "must have gadget" to share with you: A mini book light to use while stitching, but which one?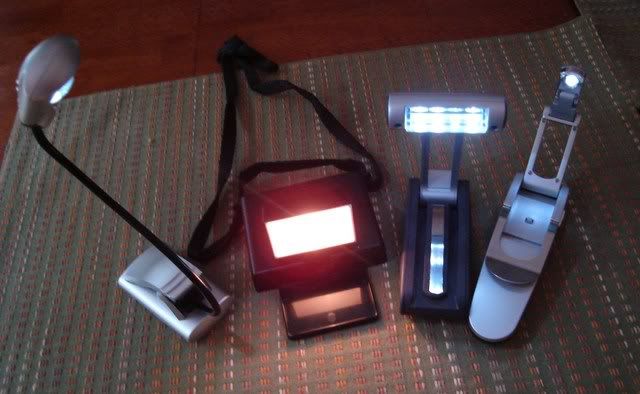 My favorite is the one pictured on the far left, the
Carson
Flex Neck Ultra Bright LED Book Light FL55. And here is the brand new one that I will be giving away...
I like this one the best because it is lightweight (3 oz), the light is truly bright, the 7" flexible goose neck allows you to adjust the lamp-head in every direction, the clip opens to a generous 1.5 inches, and it has a flat base for table top illumination. I like to clip this light onto the front of my shirt (looks goofy but it works well) but the clip enables you to attach it to a frame or hoop. The little light does require 3-AAA batteries.
As some know, I love the smaller thread counts and especially love the look of over one stitching. This light is truly a "must have" when working on those 40 count over one projects. It is small, lightweight and portable which makes it great for travel. I have a friend that travels with a 100-watt bulb for those low-lit hotel rooms; I just bring this little light and never need to worry about a broken bulb in my luggage.
If you are interested in this Gadget
Give-A-Way
just leave me a comment and I will draw a name on 7/18 and post the winner.
I purchased another bird feeder/pole yesterday but have not put it out yet. I am amazed at how many hungry critters there are. Here is one that showed up at one of my backyard feeders fortunately I was home to take this picture. I just knew that
Rob
would appreciate it!!!
And where might Bambi's mother be???
She never took her eyes off of her baby, always watching closely from behind the rock wall in the neighbors yard.
Thanks so much for stopping by~